CAA: Culinary Arts Academy
Culinary Arts Academy is a member school of the Swiss Education Group
It is regarded as one of the world's finest and Switzerland's best culinary schools. It has two campuses; Le Bouveret campus located on the shores of Lake Geneva and the other one is the city campus of Lucerne.
The unmatchable curriculum at Culinary Arts Academy builds a strong foundation that blends a top-rated culinary arts education with practical business theory helping students to succeed in the world of culinary arts.
The Mosimann Collection of Chef Anton Mosimann, OBE is also housed at Le Bouveret campus.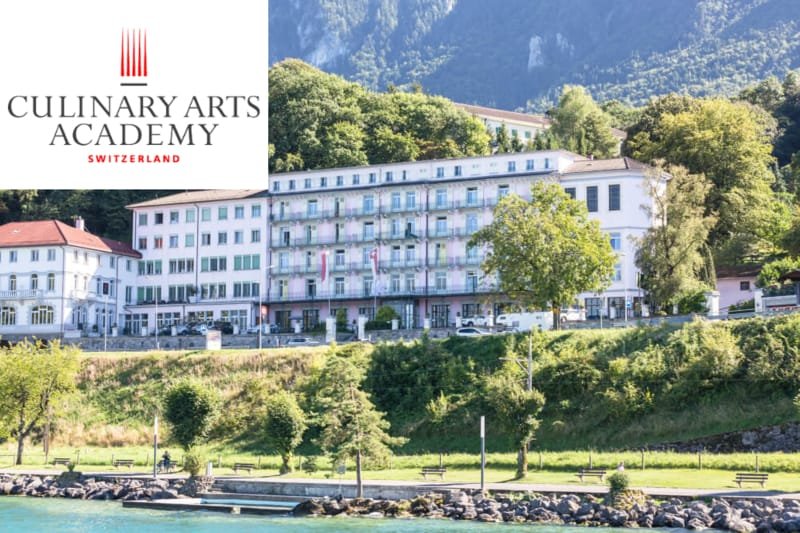 Le Bouveret is a French-speaking village that is an attraction to tourists, is located on the southernmost end of Lake Geneva. It is saturated with places to visit and have fun such as the Swiss Vapeur Parc and Aquaparc. Lucerne is known for its immensely admirable medieval architecture with gregarious German-speaking residents. It is home to the centuries-old pedestrian bridge and is located at the stunning sight of Lake Lucerne.
One of the most enjoyable experiences will be your four-to-six-month internship in top-notch hotels and restaurants, which will primarily focus on polishing your skills. Examples of where our students spent their internships include
Restaurant Didier de Courten, Sierre (2 Michelin Stars and 19 Gault Millau Points)
The Chedi, Andermatt (Hotel of the Year 2017 (Gault Millau))
Mandarin Oriental, Geneva
Domaine de Châteauvieux, Geneva (Relais& Châteaux and two-Michelin-starred restaurant)
Ritz Paris (professional partnership with Culinary Arts Academy Switzerland)
Lamparts Restaurant, Hägendorf, (2 Michelin Stars and 17 Gault Millau Points)
Placement and Recruitment
200 international companies attend each year, meaning you can obtain valuable career recruitment opportunities. You come freely participate in panel discussions, network, attend sessions with speakers who give loads of knowledge and communicate as much as you want. To be interviewed and recruited, you need to attend career presentations that enlighten you with information and meet industry representatives. These are ways to polish your people skills, fire up your passion and drive and ultimately become successful.
Affiliations & Accreditations